Dec 18 2012


Walt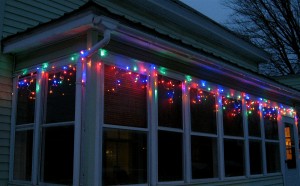 We spend half our waking hours in the dark this time of year. Not so much an issue when we're indoors, but outside we sure notice it. So it's nice to see the colored lights strung everywhere. They're festive. More importantly, they diminish the impact of darkness in early winter, making it easier to tolerate.
Even though I'm no big fan of Christmas, I put lights on my house. I like seeing them there when I come home from work late at night. They make me smile no matter what kind of day I've had.
Pagans dragged trees into their houses and celebrated the Winter Solstice with light long before Christians hijacked the holiday. It makes sense, really. Why not light a candle on the darkest day of the year? No sense sitting in the dark and whining about it.
Winter is just beginning. There's a month lag between the shortest day of the year and the meteorological middle of this season. Yeah, that means the temperatures drop even as the days lengthen in January. Then it's another two-month crawl out of winter – here in northern New England, anyhow. That's a dismal prospect for those of us who neither ski nor snowmobile. Oh sure, I've polyurethaned my snowshoes and will break them out when the first big dump of the white stuff occurs. But I do so reluctantly. I much prefer the greener half of the year.
Forget about summertime. The Winter Solstice is upon us. Boil up water for tea or hot chocolate, revel in the indoor warmth and light, and surround your self with friends and loved ones. Plenty of time for dark thoughts later. 'Tis the season. What the hell, why not take whatever pleasure you can from it?
No responses yet