May 14 2013


Walt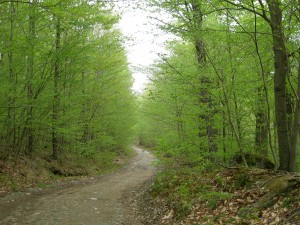 A tidal wave of green sweeps through the Champlain Valley during a succession of warm, dry days, giving me a serious case of spring fever. There's no sense fighting it. I load my backpack, usher my dog into the car and head for the hills. Next thing I know, I'm hiking up a logging road winding deep into the mountains.
The road narrows to a trail shortly after crossing a brook. I leave the trail, following the brook upstream until I reach the edge of spring. There I find painted trilliums just opening up. There I set up my tarp on a high piece of ground, just in case the clouds gathering overhead deliver the rain that has been forecasted.
The stream rushes along incessantly. A few black flies swirl around my head without biting. I collect enough dry wood to keep a small fire going after dinner. Matika chews a stick, then another. The intoxicating smell of pollen, warm earth and forest rot fills the air. A slight breeze spits a few raindrops my way. I don't care.
I feed sticks into the campfire for hours on end. A hermit thrush sings in the distance. Darkness descends. Then an eerie calm overtakes the forest.
A light rain falls shortly after Matika and I slip beneath the tarp for the night. It doesn't last. I toss and turn a while before falling into a deep sleep. I awaken to a Virginia waterthrush singing loudly at daybreak. Matika licks me until I rise.
I stumble down to the brook to splash cold water into my face. The sun clears the ridge, peeking through the trees as I lounge before a breakfast campfire. When all the sticks in my woodpile are gone, I break camp.
An hour hike out takes two hours. I admire a patch of bleeding hearts along the way and stop by the brook crossing to daydream. Matika sniffs around. A forest calm lingers within long after I return to the car. The green overtaking the valley seems richer than it was the day before. I revel in it.
No responses yet