Jun 17 2013


Walt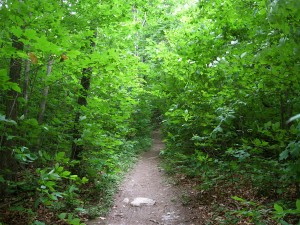 Yesterday Judy and I went for a walk around Aldis Hill. Our dog Matika came with us, of course. There was rain in the forecast so we wasted no time getting out of the house. We knew we wouldn't be in the mood to go anywhere once it started.
The early morning mosquitoes were there to greet us. We did our best to ignore them, focusing upon the lush forest instead. Recent rains have brought all the vegetation to life. I can't remember the last time the woods looked this green.
Judy skirted the mud holes; Matika went right through them. I did something in between. One's attitude towards mud often reflects one's beastliness. I'm not quite sure why.
Daisies and buttercups were in full bloom on the grassy top of the Hard'ack ski slope we crossed, but the wildflowers that cover the forest floor in late spring were nearly gone. With the Summer Solstice only a few days away, this shouldn't come as a surprise. That said, I am always amazed by how quickly the warm season goes by. There's not a day to be wasted.
Lately I've been too busy promoting my new book, The Allure of Deep Woods, to get into the mountains as much as I like this time of year. In lieu of deep woods, I slip away to nearby pockets of wildness whenever I can. There is something ironic about this to be sure. No matter. Aldis Hill and places like it are enough for now.
One response so far
One Response to "Enough for Now"
Bob Stanton

on 20 Jun 2013 at 8:44 pm

1

" One's attitude towards mud often reflects one's beastliness." And probably a bunch of other qualities too. Thanks Walt, I've got a new barometer to use.