Mar 16 2014


Walt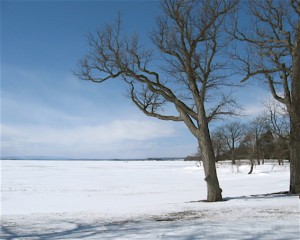 Winter persists. A Nor'easter dumped over a foot of snow on northern New England this week, followed by an all-too-familiar cold snap. But the March sun melts the ice with ease at midday, and lingers into early evening. There is hope for us yet. The equinox, after all, is only four days away.
My dog Matika was so restless this morning that I had no choice but to take her out for a run. She was my excuse, anyhow. Where to go? Usually I gravitate to the woods, but today I went to the lake. If I can't have warmth and greenery, then give me blue sky and sunlight.
A wicked north wind greeted me as I stepped out of my car and walked to the edge of Lake Champlain. It was iced over as far as the eye could see. I tossed a ball for Matika while trudging across the icy ground between snowdrifts. Judy had warned me about this bitter, lakeshore cold. But I ventured into it anyway, chasing the light.
The many tracks in the snow assured me that Matika and I weren't alone in our restlessness. A few hardy ice fishermen stood motionless on the bay ice despite the cold. For a moment I imagined lake water lapping gently to shore before me as it had the last time I was here.
My eyes watered as the wind blew, urging me to cut my walk short. Oblivious to the cold, Matika kept running after the ball. Clouds appeared on the western horizon and that was it for me. Back inside for another day. Spring will arrive soon, the optimist in me kept thinking. And I smiled when I saw a shamrock decoration plastered to the window of a house during my drive home.  Yes, spring will arrive soon, very soon.
One response so far
One Response to "Chasing the Light"
Deb Wingert

on 17 Mar 2014 at 9:07 am

1

Sorry we keep sending you more of this white stuff, but Chicago keeps sharing with us. Last week schools added 2 more snow days to the 11-14 already this year, a 90 car/semi icy pileup on the Ohio Turnpike a few miles from me killed 3 and injured many, and my cabin fever must be at 107 degrees by now. Our local wildlife rehab center, Back To the Wild, has been inundated with injured and starving critters while they teeter on the brink of insolvency. I'd surrender, but the weather not-so-gurus have promised us mid 40's tomorrow. Keep that optimism flowing, Walt!!!