May 04 2014


Walt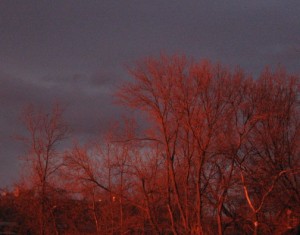 Like most people here in the North Country, I plod along through a seemingly endless succession of grey, rainy days, waiting for that outburst of verdure called springtime. It is May, after all, and the brown month following winter is behind us.
Then it happens.
The sky breaks open and the dull landscape suddenly comes alive. I step outside for a better look at trees awash in fiery light. The sun has dropped below the rainclouds and is now hovering above the western horizon. Am I hallucinating?
A light rain dampens my skin but I don't care.
And then, as if illumination wasn't enough, a rainbow arcs across the sky. Despite any scientific explanation, it is truly a mystical phenomenon. The world we inhabit is too marvelous for words.
Wildness is everywhere.
One response so far
One Response to "A Fiery Moment"
Bob Stanton

on 11 May 2014 at 10:15 pm

1

Long live the mystic…and the mystical!