May 12 2014


Walt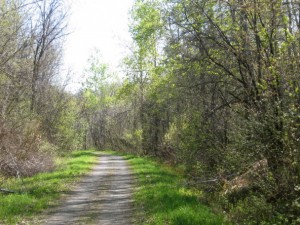 Leaves burst forth all around me as I meander along a path cutting through the woods. The forest floor is covered with trilliums, trout lilies, violets, and a host of other wildflowers. The songbirds are all singing – robins have been at it since the first glimmer of predawn light. I don't know how long the warblers have been back, but I see them all around me now.  The natural world is coming alive and I am giddy with it.
What is this feeling overtaking me just now, like an inner glow that won't quit?  Is this happiness?  Is it possible to be driven to joy by the mere outbreak of blue sky, balmy temps and fresh verdure? Of course it is. We are more creatures of the earth than we care to admit.  The robins are rejoicing.  Why shouldn't we?
Matika lags behind me, backlogged in smells that she has found along the way. She is smiling. Some say that animals do not express emotion, but I know when my dog is happy. Quite often her moods are a reflection of mine. We both like to run wild for a day.
Springtime is so glorious that words cannot do it justice – especially now as everything brown suddenly turns green after such a long wait.  I grab a branch and pull an apple blossom close to my nose, inhaling deeply, intoxicated by its perfumed insinuation into the world. And to think the growing season is only beginning…  No wonder I'm so giddy.
Had I but one month to live, I would choose May, when there is nothing afoot but promise and potential, when the bee and the butterfly are just starting to go about their business, when the memory of a cold, dark winter is still fresh in my mind. And, as I sit on a knoll overlooking a drowned marsh where marigolds thrive, I can't help but feel lucky to be alive and experiencing all this once again, one more time.
Indeed, it is too glorious for words.
One response so far
One Response to "Leaf Out"
Hillel B

on 15 May 2014 at 7:57 am

1

Amen!!!