Jun 15 2014


Walt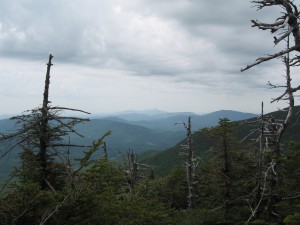 Every once in a while, I get the urge to climb a mountain. They aren't hard to find in Vermont. One of my favorites is Jay Peak simply because it's close to home. The trailhead for it is only an hour from my doorstep.
Jay Peak is also fairly easy as mountain climbs go. Only takes a couple hours to get up and down it. And there's a great 360-degree view on top.
I set foot on the trail to Jay Peak a few days ago. Had my dog Matika with me, of course. She got up front right away and stayed there during most of the hike. I stopped several times along the way to catch my breath and admire wildflowers. Painted trillium was in abundance, and yellow clintonia was just coming out. I also found patches of Canada lily, false Solomon's seal, and wild ginseng – all late spring wildflowers. Yeah, it's that time of year in the mountains even though summer has already arrived in the Champlain Valley.
Jay Peak is the last mountain on the Long Trail headed north, just a few miles shy of the Canadian border. Every time I climb it, I recall my thru-hike along the LT back in the 90s. There are plenty of good views of the Green Mountains towards the top, with Mount Mansfield usually visible. Makes me realize how lucky I am to live in Vermont.
Since Jay Peak has ski trails on its eastern slope, there's a lift going to the top of it. That killed any desire I might otherwise have had to linger on the summit. After consuming a granola bar and half a liter of water, I was ready to descend. I daydreamed all the way down – one of the nice things about hiking alone.
I felt rejuvenated when I got back to the car, having cleared the stinky thoughts from my head. Bagging peaks is good for that. And the rest of the day was gravy.
One response so far
One Response to "Bagging a Peak"
Bob Stanton

on 18 Jun 2014 at 1:06 am

1

Got a 12 mile round trip scheduled for the weekend with a pal, though alas, no peaks will be bagged in the process. It's hard to get much above 2000 feet in Pennsylvania. But the rest of the day will be, as you said, gravy.