Jun 07 2014


Walt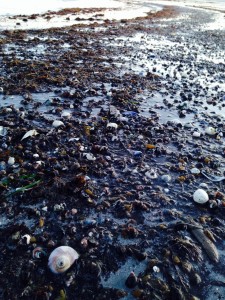 Fecund. That's the word leaping to mind as I walk the Maine shoreline at low tide. At my feet lies the detritus of the ocean: shells mixed with seaweed, spread along the beach as far as the eye can see. Knotted wrack, barnacles and snails cling to every square inch of nearby rocks exposed by the retreating sea. In shallow tide pools I find more snails, hermit crabs, and so many smaller life forms that it seems the water itself is alive.
My wife Judy takes a wider view – her eyes locked on the distant horizon as the incessant, low roar of crashing waves washes her mind free of mundane thoughts. Impermanence is the word that leaps to her mind, and the shifting sands underfoot confirm it. All human constructs are like the sand castles built along the shore that the incoming tide dissolves.
A few days later, we board a 65-foot boat that takes us twenty miles off shore, to the feeding grounds of finback whales. For an afternoon we are sandwiched between low, gray clouds and sea swells. The edge of land grows fainter in the mist until it disappears altogether, unsettling a landlubber like me. When the captain kills the boat's engine, all we can hear is water spraying upward from blowholes as those behemoths surface.  Their slick bodies shimmer in the dull light as they break skyward. Then they disappear beneath the waves. When finally we see one sucking in the ocean with its great mouth, we get a sense of what's going on here.  "Lunchfeeding," the captain calls it – tons of fish converting into tons of whale.
Back home, hundreds of miles inland, I return to my daily routine and the comfort of a green world that makes more sense to me. But for a few days I was reminded that we live on a water planet along with countless other life forms both great and small. The ocean is humbling, to say the least. I can't grasp the sheer magnitude of it.
2 responses so far
2 Responses to "By the Sea"
Walt,
It is always nice to read your writing.
This morning I started my coffee with your blog. I have been craving to see the ocean for a month. You took me there in my mind and for that I am grateful.

Thanks,
Betty

Bob Stanton

on 11 Jun 2014 at 1:48 am

2

Primal. Or maybe primordial is a better way of putting it. That's what I think of when I stand oceanside. The very beginning of life, billions of years ago.