Aug 07 2014


Walt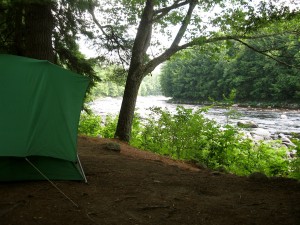 Yesterday morning I awoke to the sound of the Sacandaga River flowing southward just a few yards from my tent. As I broke camp I marveled at how much of the Adirondacks I've seen during the past 14 months while promoting my book, The Allure of Deep Woods. I've visited dozens of stores in as many towns, sometimes doing readings or signings. I've driven hundreds of miles inside the Blue Line, crossing my own tracks more than once. The task has given me a different perspective on the Adirondack Park, to say the least.
A couple hundred yards north of where I camped, the West Branch of the Sacandaga River joins its main stream. I crossed the West Branch eight years ago while hiking the Northville/Placid Trail. That's the subject of my book. How strange to be so close to that wilderness experience yet so far away. Adirondack wild country and the web of roads and towns superimposed on it are two closely related yet entirely different things. I've come to know the latter quite well during my 14-month book tour.
The folks attending my reading at the Northville Public Library the night before asked me all sorts of questions. I did my best to answer their questions as honestly as possible, but can't help but feel like I failed them as far as conveying the essence of deep woods goes. I sometimes wonder if my book is any better at that.
The Adirondacks are a vacationland for most people – a playground you could say. That's a good thing. Any exposure to the natural world is good for the soul. That said, I wish I could relay the deeply religious sentiments that stir within me whenever I roam a wild forest, and inspire others to experience the same. But words only go so far.
2 responses so far
2 Responses to "Touring the Adirondacks"
Hillel B

on 07 Aug 2014 at 7:49 am

1

'Great read, Walt. 'Very much enjoyed it and related to it, in reflecting on my through-hike on the NPT a few years ago.

Walt

on 07 Aug 2014 at 8:47 am

2

I'm glad you did. Thanks for saying so.