Aug 19 2014


Walt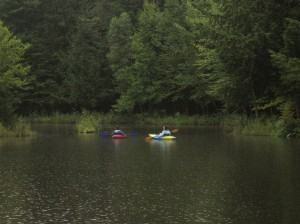 For ten years Judy and I have had our grandkids stay with us for several days during the summer – no parents allowed. This year we decided to change the game a bit. We would pack up all six of them, along with the necessary gear, and take them camping. But a rainy forecast nixed our plans so we opted for the next best thing. We rented a primitive cabin in the woods and took them there instead. No electricity, no running water, and we didn't have a chance to check out the place ahead of time. It was a risk to be sure.
The kids were excited when we got there. The cabin overlooked a 2-acre pond. We had it all to ourselves. After helping Judy and I haul food and gear into the cabin, they gravitated to the water. The older kids kayaked while the younger ones fished. Then they swam out to the floating platform to play. A light rain fell but they didn't care.
We ate dinner by candlelight. Judy played charades with the kids while I cleaned up. Some of the kids slept with me in the loft. The others slept with Judy in the bunkroom. Rain pelted the cabin's metal roof that night, assuring Judy and I that we'd made the right choice.
The next day the rain let up so we all went hiking. That evening I built a campfire in the fire pit next to the pond. After dinner, when it grew dark, we roasted marshmallows and told stories. It wasn't easy getting them to settle down and sleep that night.
After playing on and around the pond in the morning, we packed up and left just as it started raining again. Everyone was glad to take a hot shower when we got home. All the same, the kids want to go back there next year.
It wasn't what Judy and I had planned but it worked out better than we could have hoped. The kids took to the natural setting as if they had been born to it. One could make a strong argument that all kids are.
2 responses so far
2 Responses to "Changing the Game"
Mary-Ellen

on 24 Aug 2014 at 7:23 pm

1

Every year I look forward to your grandkid summer camp. I know both you and Judy believe that you get more than you give during these summer weeks, but I doubt it. Your grandkids are so lucky. You and Judy are giving them a love for the outdoors, the gift of curiousity and wonder, and a relationship with you and with each other that is lacking in so many families.

You are an inspiration to all new grandparents (like me).

Thanks.

This sounds like such an amazing trip!