Aug 25 2014


Walt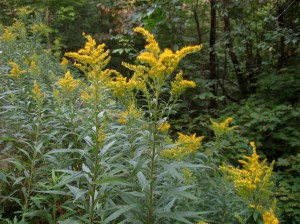 A warm summer day. Not a cloud in the sky. After dinner Judy and I go for a walk on the Rail Trail. Our dog Matika is excited by the prospect, having been cooped up in the house all week. She bounds ahead as we amble along the path. Crickets, the smell of cow manure, and a low-hanging sun that sets the surrounding verdure aflame: Vermont at the end of the day in late August.
I look around for blue asters – that unmistakable indicator of the season coming to an end. I don't see it. Instead I find Queen Anne's lace, bladder campion, and a few other wildflowers that have filled the fields and lined pathways all summer long. Goldenrod is in its glory, of course. It's that time of year.
When the trail enters the forest, I sense the air getting warmer. It's more humid, actually. Both Judy's eyeglasses and mine fog up. And the mosquitoes come out. No matter. We keep walking.
Having broken a sweat I suggest that we turn around. Judy wants to go a little farther. We go as far as the cluster of houses just beyond the wild, wooded section of the trail. That's when I find a patch of blue asters barely discernible in the fading light. Yeah, the season is winding down.
On the way back to the car, we spot an owl flying low through the dark woods. It lets out a high-pitched screech after landing on a limb. In the semidarkness all we can see is its silhouette, yet the way that stealthy predator dips its round head is unmistakable. The owl flies off silently into the night.
We catch a sliver of bright orange light on the western horizon while finishing our walk, then relive some of the highlights of our grandkid's visit as we drive home. It all happened so quickly.
No responses yet