Jun 26 2015


Walt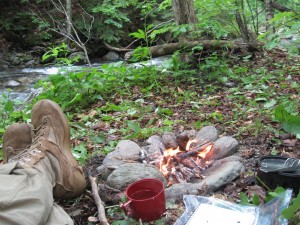 I'm going gangbusters on the bookselling business these days, but earlier this week I put it aside long enough to spend a little time in the Broadleaf Wilderness. My dog Matika accompanied me, of course.
I hiked to a favorite spot along the headwaters of the New Haven River and set up camp. After casting my fly onto the roily waters of that stream, and a simple dinner of ramen noodles and summer sausage, I settled into a comfy spot in camp. There I pondered matters while drinking tea and feeding sticks into a small campfire.
Every once in a while, I jotted down something in my field journal. But mostly I just took in the sights, smells and sounds of the forest, and appreciated the great good fortune of being alive and well in such a beautiful green world.
It's easy to get caught up in the frenzy of modern living. Happens to me all the time. But every once in a while, I head for the hills to reflect. Such outings rarely disappoint, and on occasion I come away from them with a little insight into the human condition. If nothing else, it clears my head.
I threw a few more sticks on the fire and talked to the mountain stream tumbling incessantly towards the lowlands. In the face of such fluid eternity, nothing seems as important as simply being in the moment. I pondered that for a while.
Matika lounged nearby, chewing on a stick. The sun slipped into the trees and twilight soon followed. A thrush called out. I threw a few smaller sticks on the fire until all that remained was a pile of glowing orange embers. Then I went to bed, feeling more at home in the wild than anywhere else. Yes indeed, safe and secure in wildness.
No responses yet