Jul 08 2015


Walt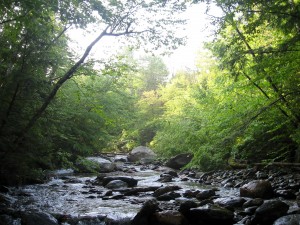 Ten days after my brief stay alone in the Broadleaf Wilderness, I returned with my wife Judy to spend some more time there. We camped in the same spot where I had been before, along the edge of the headwaters of the New Haven River, miles away from the nearest road. With fair weather predicted, neither Judy nor I could imagine a better place to be on the 4th of July weekend.
A little rain fell the first night but we were comfortably situated in our tent by then. The rest of the time it was cool and dry – perfect weather for lounging in camp. Judy knitted or read while I gathered wood, tended a campfire, or puttered about. Twice I fished the mountain stream for brook trout, which Judy had for lunch. Our dog Matika chewed on sticks when she wasn't following me along the stream. We napped. We listened to the endless rush of water breaking over rocks. Yeah, we did a lot of nothing.
Black and white butterflies overran our camp in the middle of the second day. Later we would identify them as the birch-loving white admirals. They gathered on the clothes hanging from a line strung between trees, on our tent, my backpack, and whatever other gear we had strewn about. They were not shy. I had encountered them on this stream before, but never in such abundance. Clearly the headwaters of the New Haven is their world.
Judy had some trouble getting comfortable in our primitive camp. I could relate. It's not as easy to lounge in the wild at our advanced age as it was thirty years ago – not while living out of a backpack, anyhow. But we were glad to be out there all the same. We returned home on the third day feeling more than just a little relaxed. The wild has a way of massaging all concern into oblivion, temporarily at least. Wish there was some way to can it.
No responses yet