Dec 17 2015


Walt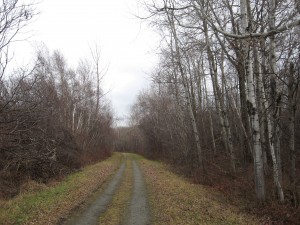 After a productive morning on the computer, I went to the nearby rail trail to stretch my legs and clear my head. The sky overhead was full of clouds so I wasn't real excited about getting outdoors. But the midday temps were well above freezing. That meant the walk would be pleasant enough.
The sun, hanging low in the southern sky, peeked through the clouds just as I was starting out. That was the last of it, though. A stiff breeze blew in more clouds from the west a few minutes later, obscuring the sun and assuring that it'll rain this evening.
Here in northern Vermont, the sun rose at 7:24 this morning. It'll set at 4:12 this afternoon. Yeah, it's that time of year – a tough time for those of us who are energized by light.
Chickadees flitted through the trees, adding a little cheer to an otherwise dreary day. I flushed a great blue heron from a small brook. My dog Matika was happy just to trot along and sniff around. Watching her, I couldn't help but wonder if perhaps I think too much.
Nature has its moods. It is best to roll with them, I kept telling myself. So I focused on the warm air, and the clear path underfoot as I walked – a rarity in mid-December. Be grateful for that. The deep cold and heavy snow will come soon enough.
The days will start getting longer in a couple weeks. Until then, I'll illuminate the tree in my living room as grey light gives way to twilight. In fact, it's time to do that now. In the absence of the real thing, artificial light will have to do.
No responses yet