Apr 19 2017


Walt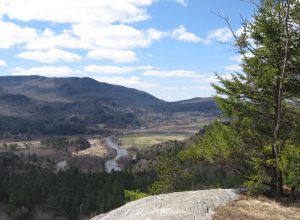 With all the rain in the forecast for this week, it seemed a crime to waste a fair day staying indoors. So I grabbed my rucksack and hike boots before heading to Hyde Park to do some book hunting yesterday. I worked the book sale for a couple hours, then drove to a trailhead for the Long Trail just west of Johnson.
My dog Matika was overjoyed at the prospect of hiking in the woods again. Finally! It's been days! And a day without a hike is a day wasted as far as she's concerned. Hmm… She might be on to something.
It's a short hike from the road to Prospect Rock, but it feels longer due to the 500-foot ascent. Got me huffing and puffing, anyhow. One look from the cliffs made it all worthwhile. The Lamoille River Valley unfolded before me in all its springtime beauty. Not much green other than conifers, and still a little snow in the distant peaks, but beautiful all the same.
I settled into a depression in the rock to eat my lunch and enjoy the view. Matika sniffed around – a bit too close to the edge at times. I called her back. A pair of hawks rode the thermals overhead. The sun burned brightly in the mostly clear sky, warming both me and the rock. A few other hikers came and went, otherwise I had the place to myself.
Early spring. I find it difficult to be unhappy this time of year. The warm season is just beginning and the prospects for a lot of day hiking look good. I hiked out of the woods thinking that these combination work/play outings might be just the thing this year. Any way to get outdoors is a good way. Matika concurs.
No responses yet