May 04 2018


Walt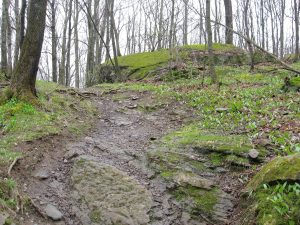 My dark rant came way too early this morning. Judy fled the room before breakfast was over to escape it. And that's when I knew how badly I needed a walk in the woods. So I squeezed one in, right between a trip to the post office and a round of book promotion. Some things just can't wait.
All winter long I have been pondering the human condition, trying to figure out what exactly it means to be human, how wildness and civilization factor into that, and how we've become the highly cognizant yet deeply flawed creatures that we are today. This isn't a matter for the faint of heart, and I've found myself bogged down in the morass of morality more than once. Yeah, everyone's got an opinion when it comes to human nature, how good and/or bad we are, but the irrefutable facts are few and far between. So my quest has put me in a surly mood, even as spring unfolds.
To walk in the woods and blow the stink off my thoughts I didn't have go far. A quick jaunt up Aldis Hill did the trick. I knew there would be early spring wildflowers in bloom, and that would improve my outlook on things if anything could. Sure enough, I wasn't disappointed. Bloodroot appeared amid the boulders, purple trilliums and trout lilies lined the muddy trail, and Dutchman's breeches strutted its stuff near the top of the hill. I stopped to admire the wildflowers almost as much as my dog Matika stopped to sniff around. It's like that sometimes. My primary task as Homo sapiens, it seems, is to simply admire God's handiwork. That's when I feel the most like myself and at peace with the world, anyhow.
I haven't figured it out yet. My query into human nature is unfinished business, to say the least. But I'm already convinced that our relation to nature is critical to understanding who/what we are. So these walks of mine are necessary in more ways than one. We go into the wild not so much to escape the trappings of civilized society as to find ourselves, to make a primal connection and remember, on some level of awareness, where we came from… and thereby figure out where we are going.
When I get a good bead on human nature, I'll let you know. In the meantime, I'll just keep on wandering and wondering and scribbling down these little absurdities that I call philosophy. If nothing else, it keeps me from being one of those self-righteous fools who engage in unrestrained violence. Yeah, a walk in the woods is absolutely necessary.
No responses yet