May 13 2018


Walt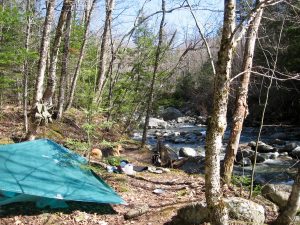 A couple days into a run of relatively warm, dry, sunny weather, I decided to take full advantage of the situation. I set all work aside earlier this week, packed a few essentials into my old rucksack, and headed for the Breadloaf Wilderness.
There's a nice spot on the headwaters of the New Haven River where I've camped several times before. After leaving my car at the trailhead, I hiked there. It didn't take long to reach that campsite, even with my old dog Matika hobbling along slowly behind me.
No bloodsucking bugs this early in the season so I set up my tarp without attaching the mosquito bar. Gathering wood was easy since I was camped off trail. I fashioned a small campfire circle that I would make disappear when I left. With that bright yellow orb beating down through the leafless canopy, I didn't start a fire right away. It was enough just to sit next to the stream, listening to the endless rush of water breaking over rocks while basking in sunlight.
When the sun finally slipped beneath the trees, I put a match to a tipi of birch bark and kindling in the campfire circle. I was startled by how quickly the fire took off, and made it a point to keep it very small and controllable with bottles of water close at hand. Matika entertained herself by chewing up some of the sticks in my woodpile.
Spending a night in the woods was just what I needed after a long winter of philosophical speculation. Temps dropped fast once the sun went down, though, and Matika crowded me off my foam pad. Not the best night's sleep, but arising to the song of a waterthrush, a refreshing mountain breeze, and early light breaking through the forest made me thankful to be alive.
I lingered for hours over a morning campfire before slowly packing up and hiking back to the car. I was giddy all the way home, rolling through the Champlain Valley as the trees slowly leafed out. Springtime in Vermont, after a long snowy winter, is absolutely wonderful.
No responses yet