Jan 04 2021


Walt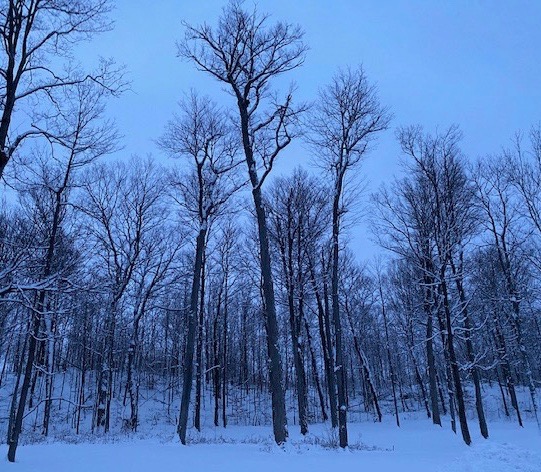 Now we are in the thick of it. The holidays have passed and a winter storm has recently dropped half a foot of snow. It still clings to the bows of trees as I get out of bed and start my day. After an hour and a half of work in my study, I gaze out the window to catch the cool, blue light of predawn. My study is warm and well lit by comparison. I slip downstairs and poke my nose out the door for a whiff of the clean, cold air. For several weeks the ground has been naked, or barely covered by a thin film of powder. Now it looks the way it should look here in northern Vermont in January: blanketed by the white stuff.
The Winter Solstice is well behind us and already the days are noticeably longer to a light-sensitive fellow like me. The deep cold still lies ahead, though, as it takes the planet a while to warm up and cool down. No matter. It's a brand new year, a new day, and life is good.
The days are getting longer, and I have plenty of work to keep me busy until the big thaw comes. That's still months away. Occasionally I'll get out and tramp around in the snow, but for the most part mine is an indoor life until mid-March. I'll shovel the snow regularly, as I did yesterday, and sometimes that's all the outdoor activity I need. As a writer I have learned to make the most of these colder months so that I don't feel bad about being outdoors and unproductive during the warmer ones. It's a good arrangement, actually. A good balance.
But now I revel in the blue light of predawn. I feel the exhilaration of simply being alive and well. The Earth circles the Sun and the seasons change. I relish the days ahead, as well as this day. It feels good to be stirring about on a day like this, on any day above ground.
Comments Off on The Predawn Light of Winter