Feb 23 2020


Walt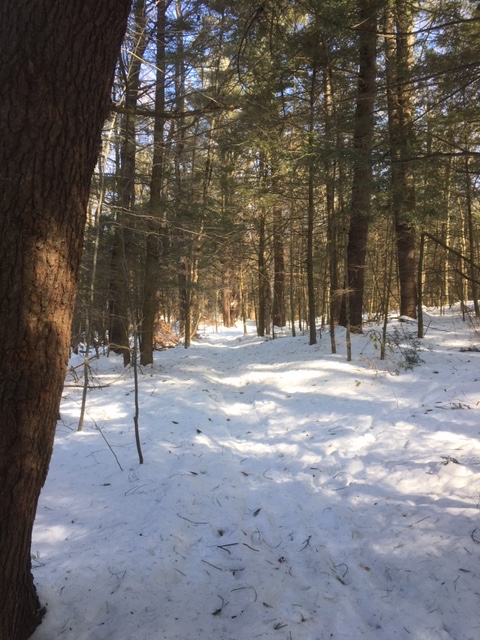 After thinking about it for days, I finally dig out my snowshoes and head for a nearby snow-covered forest – the Sheldon Town Forest to be exact. Here in northern Vermont, we're into freeze-and-thaw temps now so there's no time to waste. Odds are good that March will give us at least one good dump of fresh snow, but it could melt off quickly. Best to get outside with my snowshoes while I still can.
Yessir, my trusty Green Mountain Bear Paws. All leather and wood. I've had them over 25 years and have repaired them four times. Looks like another repair is just about due. No matter. I wouldn't want to have anything else strapped to my boots when I get into deep snow. They're three feet long and ten inches wide. They keep me on top of it for the most part.
It's been two weeks since the last big snowfall so most of what's on the ground now is compact. Still snowshoes are needed to negotiate it without post-holing. I follow a set of ski tracks passing through the conifers, slightly widening a path that others have made. No cutting tracks today. That's fine by me.
Recent strong winds have shaken a lot of detritus loose from the trees. In a couple places I skirt fallen branches and downed trees. But travel across the snow isn't difficult. I break a sweat and breathe heavily all the same. It's a workout. With temps in the 30s I feel overdressed with only a thermal shirt, a wool shirt and an outer shell.
When the perimeter trail I'm following passes out of the conifers and into some hardwoods, I spot 4-wheeler along with a fellow tending to maple syrup lines. It's that time of year. With day temps getting into the 40s this coming week, the sap will start running, no doubt. That gets me daydreaming about spring. Yeah, I'm ready for it. I'm more than ready. Snowshoeing is good, but I much prefer tramping across open ground. Soon, very soon.
No responses yet