Mar 27 2020


Walt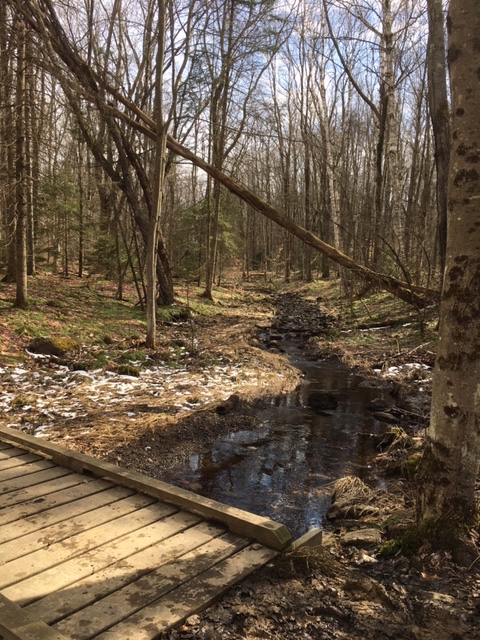 Judy and I have been staying home for a while now, staying away from other people that is, as strongly urged by the Vermont governor and health authorities. It's the best way to slow the spread of Covid-19. But "social distancing" doesn't mean staying indoors all the time. That can drive a person stir crazy, especially in the end of winter. So we've started getting outside and walking more.
Yesterday we hiked in the Milton Town Forest. We left our car in a full parking lot then set forth on a fine gravel trail that soon became a wide, muddy path. Seeing all the boot prints in the mud, and passing several groups of other day hikers, it soon became clear to us that this trail is being used more this spring than usual. That's bad for the trail but good for everyone's mental health.
Temps crept above fifty degrees in the middle of the afternoon, quickly melting off the patches of remnant snow. Evergreen woodferns still pressed to the ground were a welcome sight, as was the bright green moss on rocks and downed trees. Spring runoff filled the brooklets – their trickling over rocks being music to our ears. The grey, leafless trees still had the taint of winter about them, but the occasional bird calling out softened that.
Halfway to Milton Pond, it became clear to me that the spring season is unfolding in all its cold-mud glory. I love it! But Judy was too concerned about the slippery trail underfoot to enjoy it at first. Not until we reached the pond did she start grooving on the wild. Then I had to be patient. On the way back to the parking lot, she stopped several times just to look around. I did my best to keep from rushing her.
Today won't be quite as warm but we intend to get outside and go for a hike again. The pandemic rages on tv, but the forest retains its eternal calm. The latter is the better choice. There's no doubt in our minds where we'd rather focus our attention, anyhow.


No responses yet