Apr 10 2020


Walt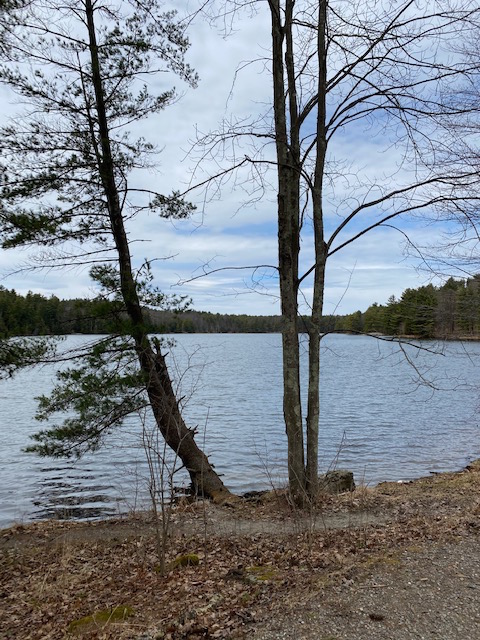 A couple days ago, Judy and I drove to Essex Junction to pick up some cotton dinner napkins. Before delivering that material to those making face masks, we stopped at Indian Brook Reservoir to walk the two-mile loop trail there. We hadn't done that in a while.
The parking lot was full of cars when we arrived mid-afternoon. No surprise. With the pandemic raging and people "sheltering in place" for weeks on end, the urge to get out and stretch one's legs becomes irresistible. Trails like this, close to Burlington, are a good place to do that.
The crowd was expected, as were the dogs accompanying them, but I was not prepared for the flood of memories. My canine companion Matika accompanied me on many walks around the reservoir. She died a year ago, but her spirit was still with me during this walk.
Judy was horrified by the wear and tear of the trail. After thinking about it, we realized that half a dozen years have gone by since she was here last. Yeah, the trail has taken a beating since then. Too close to Burlington and too well known.
So there was a touch of sadness in our walk. All the same it was good getting out, good ambling through the woods on an early spring afternoon, seeing the handiwork of industrious beavers and watching the natural world slowly coming back to life. We aren't too picky these days. We take our small pleasures wherever we find them.
One response so far
One Response to "A Walk Around the Reservoir"
Drew

on 16 Apr 2020 at 7:05 am

1

Nice. I really enjoy these posts.
"Small pleasures wherever we find them…." That is certainly my motto these days. My own wording is: "May you find moments of beauty today." The spring growth of plants, birds visiting our front and backyard bird-baths….
And good for you and Judy lending a helping hand.