Apr 17 2021


Walt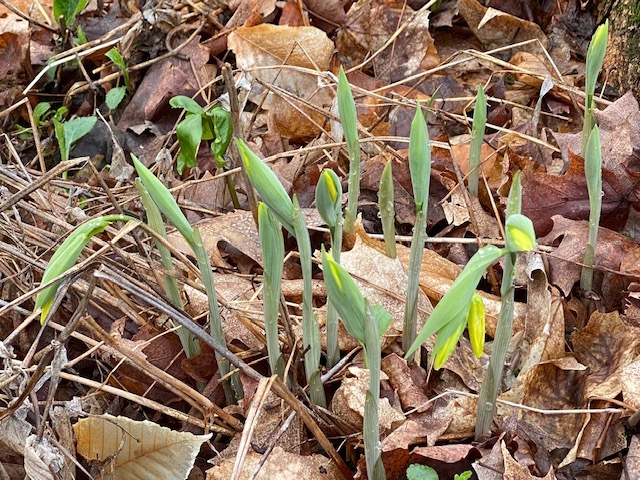 It's too soon for this, or is it? This morning I spotted wild oats emerging from the forest duff – one of the first wild lilies to unfurl in the spring. This is only the middle of April. Usually I don't see this flower until the end of the month. But all bets are off this year.
Yesterday it snowed. Before that temps soared into the 60s. I knelt down and sniffed spring beauty in bloom a couple days ago. Before that, round-lobed hepatica bloomed. Right before that we got half a foot of snow. It's hard to say what's going to happen from one day to the next.
We like to think of seasonal change as a steady progression: temps consistently getting colder as we approach mid-winter, then consistently warming up through mid-summer. But that's not how nature works. Overall nature is predicable. Here in New England, for example, we can expect four distinct seasons each year. That said, temps can fluctuate wildly over the course of any three or four days picked at random. This is normal.
Flowering plants anticipate what we humans cannot accept. The unfurling is a long, slow process. The first wild lilies press upward and, if temps suddenly plummet, they die back only to be replaced by a second wave. Some wildflowers take forever to bloom. I've seen purple trilliums on the verge of opening for weeks on end before they finally strut their stuff. Wildflowers, like most life forms, hedge their bets one way or another. When I stop and think about what's really happening all around me in the spring, I am astounded.
"False spring," I heard someone say when it snowed yesterday, unwilling to call it spring until snow is impossible. Yet we get, on average, two snowfalls every April here in northern Vermont. It's all part of the unfurling, and that's a beautiful thing to behold. Unpredictable on the short term, yet inevitable in the long run. That's nature for you.
No responses yet