Apr 30 2021


Walt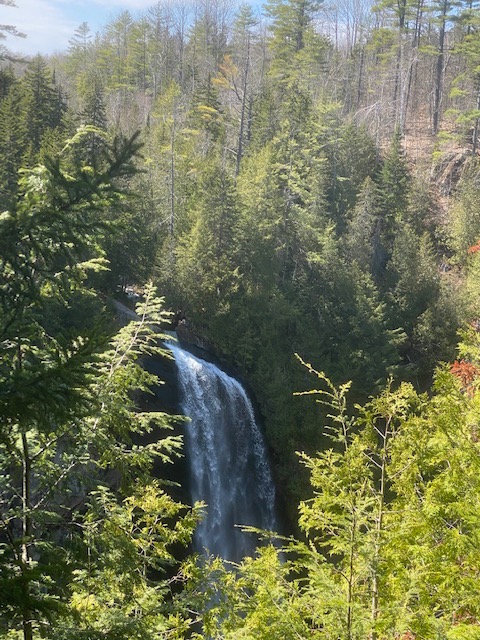 April is a bit early to go backpacking in the Adirondacks. I expected to see snow. So imagine my relief when I parked my car at the trailhead to the Hudson Gorge Wilderness, looked around, and saw no white stuff. With temps in the 50s and a partly cloudy sky overhead, it was a good way to start the outing.
I traveled fast and light along the OK Slip Falls Trail with only a 30-pound pack on my back and 20 pounds less flab on my body. My trekking poles clicked against the roots and rocks along the trail, flushing a ruffed grouse. Not much in the way of wildflowers in bloom, and evergreen wood ferns were still pressed flat against the ground. Evidently, the snow cover had just recently melted away.
Three miles back, I caught a glimpse of the impressive OK Slip Falls through the trees – one of the highest falls in the Adirondacks, tucked away in the woods. After that I hiked another mile to the Hudson Gorge, where the Hudson River cuts through the mountains. Backtracking past the falls, I made camp along a feeder stream to OK Slip Brook. There I fired up my stove and fixed dinner. No campfire this time out. The forest was too dry. Too dry, that is, until a steady rain commenced, which lasted all night long.
Arising the next morning, I felt the strange calm that usually follows a night spent alone in deep woods. Mist gathered in the trees as I fixed breakfast. Stream rushing along, otherwise silence. My joints ached as I arose from my seat along the brook, reminding me of the passage of time – decades doing this. I looked around, marveling at the growth and decay all around me, wondering as I have so many times before how it all came to be. Nature is inscrutable.
I took my sweet time hiking out, stopping frequently to scan wetlands for wildlife, admire hundred-year old hemlocks, and listen to chickadees, nuthatches and other songbirds. I tramped the muddy trail – mostly dry the day before – and left boot prints on the banks of ephemeral streams. Not much else to report. I went a little wild for a short while, and that's all that mattered.
No responses yet