Nov 18 2020


Walt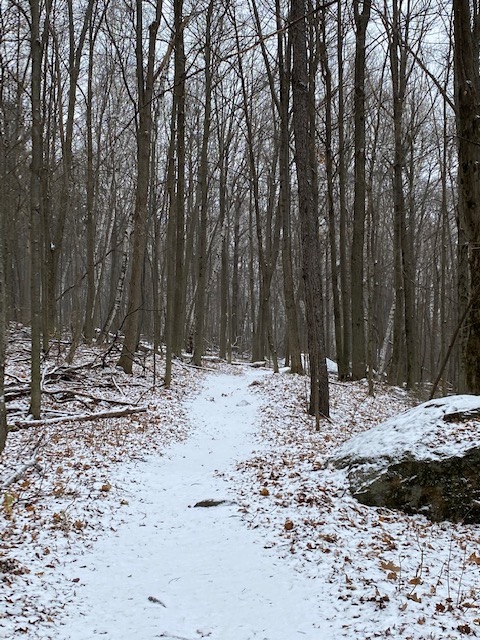 Once again I've found myself slipping into a funk – a Covid funk. The current surge of new cases means there will probably be another lockdown soon. Like the political bullshit and the shortness of the days isn't enough to deal with. And then this morning I awaken to sub-freezing temps and a dusting of snow. Although previewed earlier this month, winter has arrived in force here in northern Vermont. Ug.
While my first thought was to stay indoors and continue stewing in my juices, I decided to go for a short hike in a local pocket of woods and embrace the season instead. Besides, the funk wasn't going to go away on its own. I had to do something proactive.
After a round of writing and shipping out some books, I stepped onto the trail winding up and around Aldis Hill. Not much of a hike, really, but getting outside, stretching my legs and breathing fresh air for a short while was all I needed. It worked wonders, of course, as it always does. And it was nice being among trees again, even if they are in a city park. Nothing compared to that challenging Jay Mountain Ridge hike a few weeks ago, but not every outing has to be a rigorous one. Sometimes a 40-minute walk will do.
The funk had diminished considerably by the time I returned to my car. I know how this goes, though. I'll have to get out again in another day or two to keep it at bay. Even then, the news will still be full of political bullshit and the days will keep getting shorter for another month or so. No matter. I do what I can to get through these dark days thinking: What a glorious year 2021 is going to be, once a mass vaccination has done a number on that nasty bug! Then we'll all have a life again.
Comments Off on Walking It Off