Apr 22 2020


Walt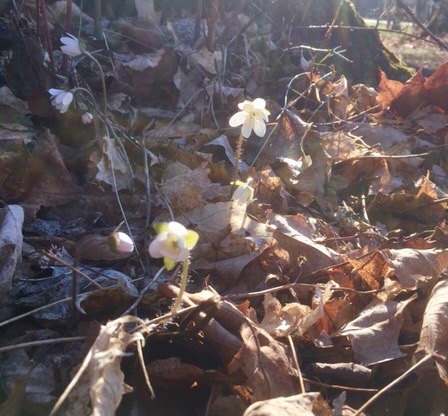 The snow flurries blowing across my yard this morning are disheartening. It's late April and I'm in desperate need of springtime's consolation this year, as the harsh realities of the ongoing pandemic and the related economic downturn sink in. Yesterday I finished reading The Great Influenza, which paints a dark picture of how the 1918 flu pandemic unfolded. What we are dealing with today will most likely follow a similar route, with the outbreak coming in waves over the year to come.
So far it has been an unseasonably cold April here in the northeast. More than once I have dressed for late March weather during my long, midday walks. The other day I was chilled by my own sweat while raking the yard, and the cold stung my hands as I mulched the garden. Then I spotted two tiny wildflowers – spring beauty – pushing up through the soil. Their petals had not yet unfurled but promised to do so very soon. Then I found round-lobed hepatica in full bloom, half-hidden in the detritus covering the forest floor.
"Hope springs eternal in the human breast," the poet Alexander Pope wrote 300 years ago, and it still rings true. While there are always pessimists and doomsayers among us, humankind is hopeful even during the darkest times. We look for positive signs. Things will get better. It's only a matter of time.
Those who know me well would never call me an optimist. On the contrary, I tend to focus on the darker side of human nature with a steely eye, and know all too well what the wild can do. Yet there is in springtime an undeniable reawakening, the natural world coming back to life after a long dormancy, a rebirth. It has happened every year for as long as we can remember – longer than humankind has existed. And we are in the thick of it right now, despite all diseases and disasters.
After hepatica comes an explosion of wildflowers, the trees leafing out, and everything greening. Despite the snow flurries right now, spring's glorious unfolding is only a few days away – a fortnight at the most. Then we'll open our windows and go barefoot again. None of this will make the pandemic or the economic downturn go away, but they'll be a lot easier to deal with as a consequence. I'm looking forward to it.
Comments Off on Hope Springs Eternal