May 08 2022


Walt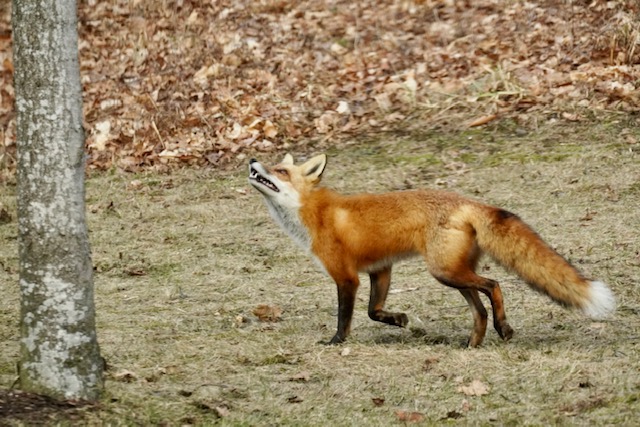 A couple years ago, we got serious about attracting songbirds to our feeders. Judy did some research, found out what certain birds like, and purchased the good stuff. As a consequence we are visited daily by woodpeckers, nuthatches, chickadees, mourning doves, and scores of goldfinches. Hummingbirds come around during the summer. Other birds stop by, as well. Grey squirrels scurry about beneath the feeders, eating what the birds drop. It's busy out there.
The local sharp-shinned hawk has taken notice. He stops by occasionally to see if he can grab a winged meal. The songbirds scatter when he shows up, of course. Judy has taken some good photos of that beautiful raptor. We've seen him make several attempts to catch a songbird, but without success. Then one day, from the kitchen window, I saw him make off with a goldfinch in his talons. I must admit, I was a little horrified by it. Hawks have to eat, too, but my sympathy was with the finch.
Twice now I have found a patch of mourning dove feathers on the ground near the feeders. I've seen this during walks in the woods many times and know exactly what happened. Someone caught and ate those birds on the spot, or started to anyhow. Maybe the doves, so commonly associated with peace, put up a fight. It's hard to say. But as I gathered up those feathers, it became clear to me that those two doves don't exist any more.
Several weeks ago a red fox suddenly appeared, chasing a terrified squirrel up a tree. Judy and I cheered a few days later when that same fox hunted down a field mouse. The mice have gotten into our garage and have done some costly damage to one of our cars. We now keep the garage closed up and a dozen mouse traps in there. Still one gets in occasionally.
Last week I shouted to Judy to grab her camera when I saw the fox in our backyard again, chasing a squirrel. This time he caught it. We aren't particularly keen on squirrels, that like to poop and pee all over our patio furniture, but there was something tragic about seeing that rodent meet such a violent end. It took a while for the fox to subdue the squirrel and haul it off. Sustenance for hungry kits waiting in a nearby den perhaps? That's what we'd like to think. But the fact is, everyone has to eat and not all living things are herbivores. That's nature for you. And it's on full display right in our backyard.
Comments Off on Predatory Nature