Aug 15 2019


Walt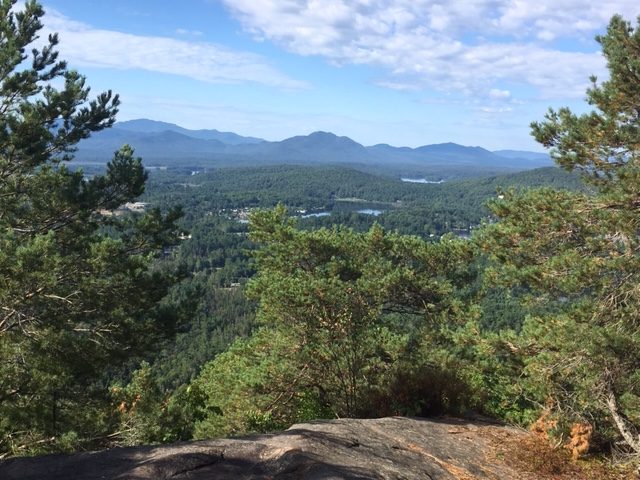 Have returned home from another 2-day tour of the Adirondacks, similar to last month's trip. Visited several bookstores to promote my old Northville/Placid hiking narrative, The Allure of Deep Woods, along with my latest book, The Great Wild Silence. Tuesday evening I schmoozed with a couple dozen writers and even more readers during Authors Night at Hoss's Country Store in Long Lake. That was fun. But just being in the Adirondacks again is what really made the trip worthwhile. How I love that wild country!
Once again, I spent the night in a shelter at John Dillon Park, falling asleep to the call of loons then awakening to them in the morning. The second day, after one last stop at The Book Nook – a new bookstore in Saranac Lake – I climbed Baker Mountain. It's located right on the edge of town. Only a mile to the summit, though rather steep towards the end. On top I enjoyed a nice view of the High Peaks with Saranac Lake sprawling below.
I'm shifting my focus. After hiking the Cohos Trail through New Hampshire's White Mountains and beyond, I'm now looking west. Oh sure, I'll continue visiting familiar places in the Green Mountains right here in Vermont, but what I crave is wide open country, new wild lands to explore during the years to come. I've only tramped though half of the Wilderness Areas and Wild Forests inside the Blue Line. I'd like to spend time in them all. With that goal in mind, I have picked up two more maps of the Adirondacks – part of a set of six canvassing the entire park. I now have five.
Six million acres and most of it wild country. The Adirondack Park is roughly the same size at Vermont. Forests, mountains, streams, lakes, ponds and bogs. And a thin network of roads and tourist towns to boot. Plenty to keep me busy during the next decade or so. Looking forward to it.
Comments Off on Focus on the Adirondacks