Nov 17 2013


Walt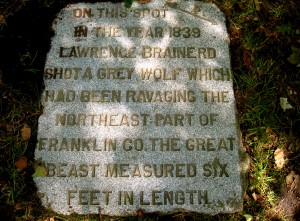 With the deer hunters taking to the woods, I decided to hike local today, going to Aldis Hill right here in town instead of venturing into the mountains. That way I wouldn't have to put blaze orange on my dog or myself to keep from being shot at. I don't mind ceding the mountains to hunters for two weeks. The rest of the year the wild is all mine.
Aldis Hill is located on the edge of town, only a mile from my house. I go there often. It's convenient, that's all. I go elsewhere when I want a taste of bona fide wildness. And yet Aldis Hill has its wild story to tell.
Near the top of the hill, no more than fifty yards down a path splitting away from the main trail, there's a stone with these words cut into it:
ON THIS SPOT IN THE YEAR 1839 LAWRENCE BRAINERD SHOT A GREY WOLF WHICH HAD BEEN RAVAGING THE NORTHEAST PART OF FRNKLIN CO.  THE GREAT BEAST MEASURED SIX FEET IN LENGTH.
I often think about that stone monument while hiking this hill. I think about a wolf prowling here 174 years ago and how impossible that would be now. I think about the fox den I found here once, the barred owl I saw here at midday, and the moose tracks I stumbled upon only a few miles to the east. That stone reminds me how relative tameness and wildness really are, how close I am to it even while zipping around town in my car running errands.
No responses yet