Nov 25 2013


Walt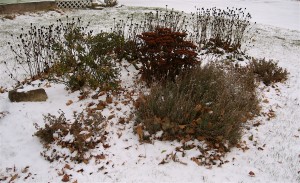 Even though I've been expecting it, the first snowfall of the season always takes me by surprise. It came with a vengeance the night before last: wind howling, sudden whiteout, and the highway home as slick as an ice rink.
I awoke yesterday morning to find a latticework of frost spreading across the window. I went outside before breakfast to feel the arrival of winter. It slapped me in the face the moment I stepped out the door.
The garden in my front yard still has a little color in it. Traces of leafy green and autumnal red linger there. But for the most part, the plants have died back and are hunkered down for the long, cold season. The siege is on.
Here in Vermont, a casual approach to winter simply will not do. I have snow tires on my car now. The storm windows of my old house are down and the leaks around them have been sealed with rope caulk. My plow guy has staked the corners of the driveway in anticipation of the first big dump. Salt and shovels have been moved from storage to the front porch. I am ready.
At midday yesterday, I went for a walk on the Rail Trail with my dog Matika despite temps in the teens. The biting wind gave me an ice cream headache. Matika, with her thick coat of fur, frolicked in the snow. She loves it. But I only tolerate winter, seeing it as an opportunity to get a lot of literary work done since I'll be inside for the most part. When you live this far north, you find ways to cope with long, cold season. Either that or you go a little stir crazy. Vermont winters are not for the faint of heart.
One response so far
One Response to "Long Winter Siege"
Bob Stanton

on 27 Nov 2013 at 9:28 pm

1

There's something about the first big snowfall that makes me euphoric. Of course I won't feel the same way in March. Happy Thanksgiving!